v Where are you originally from and where are you living now?
Originally from the United States, I've lived abroad now for close to 30 years, in 5 different countries: France, Portugal, Spain, Italy, and now Hong Kong.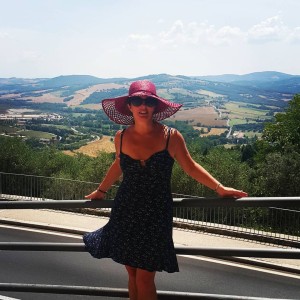 v What led you to want to move to the country you are currently located in?
Each move I made was for different reasons: adventure (Paris), professional advancement (Lisbon), personal enrichment (Madrid), love, (Italy), and family (Hong Kong)
After 12 years in Italy we came to the conclusion that our 2 young children would likely have better opportunities outside of southern Europe. With the economic debt crisis raging, and our family value system clashing at times with the typical approach to raising children in southern Europe, as well as the education system, we decided it was time for a change.
Given the forward-looking vibe and excellent educational opportunities of Asia, Hong Kong became a natural choice for us.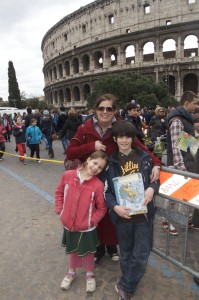 v Are there any details you wished you had known before moving?
I didn't realize how hard it was to get local, truly organic produce – that you can really trust is organic. I brought organic seeds with me from Italy so I have been growing a rooftop vegetable garden, but it's not enough yet to feed my family of 4.
I also wish I knew how very detrimental the quality of the air is and what options there are to counter the damage.
I also wish I'd known how green Hong Kong is and how much natural beauty there is around us. It would have made the decision much easier.
But on second thought, let's keep that a well-kept secret, it's crowded enough as it is!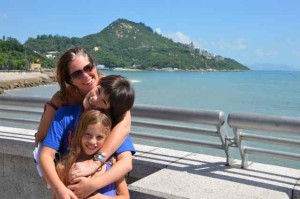 v Which aspects of your current country do you most value?
After living and working for 25 years in Europe – where my father lived and thrived for many years – It's a pleasure to now live in Asia, since my mother was born in what was then Peking and I have the opportunity to explore the culture that was so ingrained in my mother's side of the family.
My grandfather was a third generation missionary in China, being forced to leave during the Boxer Rebellion in the early 1900's. I grew up with my grandmother singing lullabies in Chinese and learning to use chopsticks at the age of five.
I love being in the center of Asia, in close proximity to a slew of fascinating countries to visit.
I'm thrilled to be learning Cantonese, a language I had never even considered before.
I had no idea how very green Hong Kong is, and the emphasis that many place on healthy living. A lot of free time is spent hiking, boating, kayaking, playing tennis and golf. Fitness is really important and the natural surroundings offer much to enjoy it.
I love that there's wifi connection in the metro/ subway (MTR for the locals)
Hong Kong has something for everyone, you might just need the patience for the time it could take to discover it.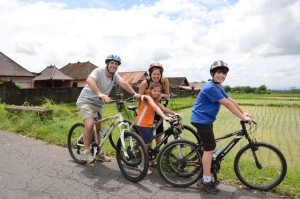 v What stands out for you regarding the way of work in the country you are working in?
Hong Kong is known to have a hardcore, busy, frenetic work and life style – and amongst a certain group, this is certainly true. What stood out for me – and this is true with any country you move to – is that you can live in any kind of environment and still create your own oasis of whatever-it-is-you-want-your-life-to-be.
In a previous life, I was proud of my 20-hour-day, 7-day-week pace of years gone by, working in multiple times zones and being perpetually "on" and available to everyone all the time. And THIS was in Italy, a country stereotypically known for it's laid-back, easy-going lifestyle.
Now living in Hong Kong, I work from our home in the suburbs, with lush green space and the ocean walking distance away. I put in intense concentrated hours at work, or spend a few days travelling abroad to lead workshops, but am adamant about taking breaks for a quick hike in the surrounding mountains, and being available for my kids when they come home in the late afternoon. I still need to work after hours, as I continue to work in multiple time zones – but I am more controlled and mindful in the scheduling process to make sure I avoid burnout.
I find that my clients appreciate my time management skills and my dedication to family and often ask for tips on running a successful business while maintaining a high level of quality of life.
So, what stands out is the fast paced, high-pressure work environment combined with a multitude of options to be successful at business while minimizing stress and maximizing quality of life.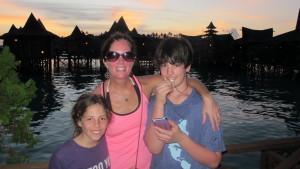 v What advice would you give to someone who has moved overseas?
I would summarize it by "Me, Them, Why, What".
I other words, Me: Be abundantly clear on what your values are, and what's most important to you as an individual, as a partner in a couple, and as a member of your immediate family.
Them: Delve in the the values of your host country; what makes them tick? Observe closely and with interest the behavior and communication styles that differ from your own.
Why: Always ask the why. Why do locals behave or speak the way they do? It may not make you like the behavior any more, but it will give you insight into their motivations and their passions and what's most important to them on a foundational, historical level.
What: Make a conscious decision what you will do with that information.  This could change on a case by case basis. But in general, you will need to determine when you will agree to adapt to the local customs and norms and enjoy that adventure of being out of your comfort zone. And when you encounter non-negotiables, where your values take strong precedence over the desire to assimilate and adapt.
Making mindful, intentional decisions on your response to the foreign world around you – after having gone through the Me, Them and Why exercise – will surely help you not only to survive in your newly adopted stomping grounds, but to thrive.
Living abroad for almost 3 decades defines the core of who I am. I'm grateful every day for the opportunity to broaden my vision of the world and my role in it, and to encourage my children to do the same. I hope to inspire them to understand that life is a gift. We have a responsibility to pursue our passions and dreams as we travel the world and to share our joy and light with those we encounter on our path every single day.